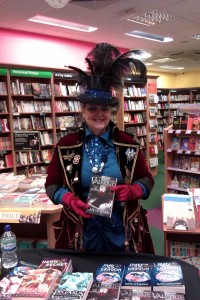 KATE O'HEARN

About Me
I'm Canadian born but was raised primarily in New York City and have loved travelling and living in loads of different places to get to know the culture. I've been in the UK for fifteen years and in the Hastings area for seven and am quite happy to stay put.
It was never really my dream to be an author, writing was just something I enjoyed doing. But at some point that all changed and it was all I want to do. Now that I have been lucky enough to see my words in print, I've never been happier!
 I have been a member of the Hastings Writer's group for five years. In that time, I was Chair for a year and am now quite happy in the role of Deputy Chair. I've watched this group grow into an amazing and wonderfully supportive collection of very talented writers.
My writing

I'm not entirely sure how it happened that I now write children's fantasy books. I started out writing novels for adults, but then I had an idea for a children's book about dragons and that set me on the road that I now love.
I have tried going back to adult fiction, but it just doesn't have the same magic. The beauty of children's writing is that it is limitless. So to attempt to constrain myself within the limits of adult writing just won't work for me anymore.
To dream of flying is to be a children's writer!
 Publications and Prizes

I currently have eight books published. Seven with Hodder Childrens and one with Circady Gregory – with 2 more contracted for Hodder. I am also published in 14 countries and in 9 languages and have reached "International Best Seller" status – Yippee!  They are all children's fantasy for the 8 plus age range.
First Series:
Shadow of the Dragon – Book 1 Kira – Published in 2008
Shadow of the Dragon – Book 2 Elspeth – Published in 2009
Herm's Secret – Published in 2010
Best Selling Series:
Pegasus and the Flame – Published in 2011
Pegasus and the Fight for Olympus – Published in 2011
Pegasus and the New Olympians – Published in 2012
Pegasus and the Origins of Olympus – Published in 2012
New Series
Valkyrie 1 – Published in 2013
Valkyrie 2 – the Runaway – to be published in 2014
Valkyrie 3 – Title unknown – to be published in 2014
Awards to date:
Shadow of the Dragon – Kira won the 1066 Children's book Award
The Pegasus series was Richard and Judy's Children's book club pick for 2012
And in 2013, Pegasus and the Origins of Olympus is shortlisted for the Rotherham Children's book award. Winner will be announced on June 26th.
My links

http://www.facebook.com/#!/kateohearnbooks
<< Kerry Mintern
Anne Spiring >>