About me
I am a Sussex girl having spent most of my life on the South Coast. My family moved to Hastings from Hailsham 2 years ago and we have all fallen for the town's eccentric charms in a big way. By profession I am a waste manager and environmental specialist and have recently relocated my office from Kent to Hastings –it is it a joy not to commute so much.
I hesitate to call myself a writer but am compelled to write down my experiences and thoughts when the opportunity arises. I studied Creative Writing and Advanced Creative Writing modules as part of an Open University Degree in Humanities with Literature which I completed in 2010. Since then I have tried to find ways to develop my writing skills when the 'day job' permits and joined HWG to gain an incentive to start new writing projects.
I joined HWG in December 2012 and it has been hugely inspiring to hear the wide variety of voices coming through the work submitted by members of the group. There is some considerable writing talent here in Hastings! I have also enjoyed taking part in a couple of competitions and hearing the useful feedback from the judges.
My writing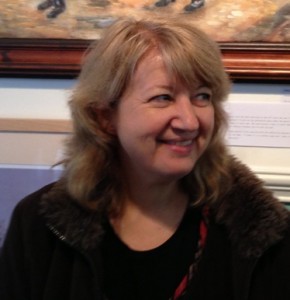 Although as yet I have not decided completely where my preferences lie I have enjoyed writing science fiction stories and love to research historical subjects to write about. A recent discovery is that play writing is really good fun as it is instant and movie-like in the way the action unfolds.
Publications and prizes
HWG Flash Fiction 2013 3rd place
<< Janet Kates
Hilary Mackelden >>