TOP NEWS
Drama competition
2018 Competition No 4 is Drama – a one act stage play involving (closely or loosely) a famous historical event.

Please see the brief here.
How to Competition Criteria
Next Competition is the "How to?" See the brief here.
Anthology
The deadline is approaching for submissions to the anthology, if you haven't yet submitted anything please do so now by emailing it to Vicky Armstrong.  We would like the 2018 anthology to reflect the very best of HWG writing so if you have a piece that you're particularly proud of, whether it has been entered into or placed in one of our competitions or not, on any topic, don't be shy! You have a maximum of 3,000 words (but could be much less) – and you can submit up to three pieces of writing – short story, flash fiction, poem or non-fiction – or any combination thereof.  The aim is to get the anthology in print by the end of August, so the sooner you submit the work the easier it will be to achieve this.  The anthology will be aimed at adults but, as always, some discretion and common sense in terms of language and themes should be applied! I am looking at myself here as much as anyone else. Vicky's email is hwgvicky@gmail.com

AGM sees change of Chair
At our Annual General Meeting on Monday 22nd January our Chair, Eileen Masters, stood down to hand over to Amanda Giles.  We would like to thank Eileen for her hard work, fresh ideas, and commitment to the group over the past few years.  The group has prospered under her steady leadership.  We now welcome Amanda and look forward to even more ideas and the continuing development of the group.
Outgoing Chair Eileen Masters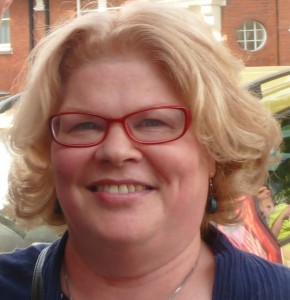 Incoming chair, Amanda Giles
70th Anniversary Celebrations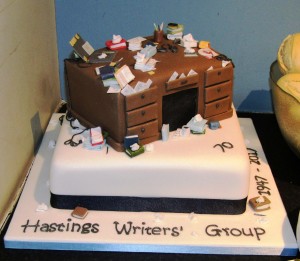 The Hastings Writers' Group 70th Anniversary celebrations kicked off with a glorious messy desk cake, which was devoured at the annual Christmas presentation evening in December.  It is nothing short of a miracle that such a successful group has continued all these years.  To find out what we've been up to for the past 70 years visit our information page 70th Anniversary where you will find minutes from the first meeting and details of Catherine Cookson's involvement.

Who we are
Based in Hastings, East Sussex, we share a passion for writing.
We come from many different backgrounds and have diverse writing experience. Some have had short stories, poems, letters or articles published in magazines, whilst others have novels or non-fiction books to their credit. However, we also welcome people who still aspire to publication, as well as those who are happy to write just for themselves and family or friends. See the Members page for our details.
We aim to help all our members develop their writing skills by providing a varied and interesting programme of meetings, and offering constructive feedback on their work in a supportive and friendly atmosphere.
The group meets fortnightly, in Hastings.  Our activities include varied competitions with guest judges, speakers, manuscript evenings, workshops and fun evenings.  We aim to offer something for everyone who enjoys writing.  From time to time we also organise events for both members and the public to attend.
If you would like to know more about our activities, or are interested in joining the group, please contact us.
We also have a facebook page, if you would like to follow us. https://www.facebook.com/HastingsWritersGroup/
Annual Presentation Evening – December 2017